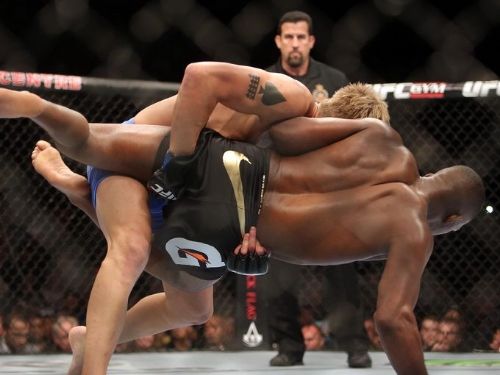 When world-renowned Ultimate Fighting Championship (UFC) fighter B.J. Penn went to CrossFit founder Greg Glassman looking for a workout that would mimic the trials of a bout in the Octagon, Glassman devised a devastating test that ultimately became known as Fight Gone Bad. Many of you have fought through Fight Gone Bad so we're thinking of putting UFC's Fight Night live bouts on the CFSBK big screen on Saturday afternoon, March 8.
CARD INFO
Event: UFC Fight Night 37: "Gustafsson vs. Manuwa" -- only accessible online to UFC Fight Pass subscribers
Date: Saturday, March 8, 2014, on UFC Fight Pass
Location: O2 Arena in London, England
Main Event:
205 lbs.: Alexander "The Mauler" Gustafsson (15-2 MMA, 7-2 UFC) vs. undefeated striking specialist Jimi "Poster Boy" Manuwa (14-0 MMA, 3-0 UFC)
Fight Pass Main Card (3 p.m. ET):
155 lbs.: Melvin Guillard vs. Michael Johnson
125 lbs.: Ian McCall vs. Brad Pickett
170 lbs.: Omari Akhmedov vs. Gunnar Nelson
Fight Pass Prelims (12:30 p.m. ET)
185 lbs.: Cyrille Diabate vs. Ilir Latifi
185 lbs.: Luke Barnatt vs. Mats Nilsson
185 lbs.: Brad Scott vs. Claudio Henrique da Silva
135 lbs.: Roland Delorme vs. Davey Grant
170 lbs.: Igor Araujo vs. Danny Mitchell
125 lbs.: Louis Gaudinot vs. Phil Harris

Are you interested in pulling up a mat and grabbing a beer to watch?